At the bottom of your page you can find the current shipment statuses.
The total shipments in progress and where they are in their journey.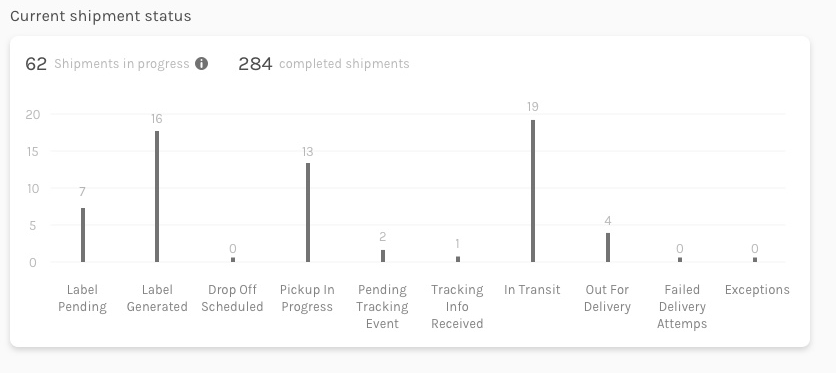 Label Pending - A label is pending, this means that the label has not been generated yet. 
Label Generated - A label has been generated, the next step is to schedule a drop-off or pickup
Drop Off Scheduled - A Parcel is scheduled to be dropped off at the designated location
Pickup In Progress - A Courier is in progress of picking up your parcel from the pickup location
Pending Tracking Event - This means that the parcel is in transit and waiting to be scanned at the first tracking point. 
Tracking Info Received - This status is that we have received information that the parcel is in transit to the next destination
In Transit - Your parcel is in transit and we are waiting for it to arrive at its destination
Out For Delivery - The parcel has arrived at destination and is out for delivery
Failed Delivery Attempts - The courier was unable to deliver the parcel
Exceptions - The parcel is in Customs/Warehouse pending update on documentation or investigation