This article will guide you through all the steps to setup a DHL Express account and finally linking it to Easyship! 
The different steps are the following; 
Creating a DHL Express Account
1. Register for a DHL Express account at https://www.mydhl.dhl.com
Company Name

Email Address

Password (Web Login)


2. Wait for DHL Customer Service to contact you to get more information about you and/or your business.
Then, wait for DHL Sales to get in touch to go over your account details.They may have additional queries about your business before an account can be opened and they will need the following items:
Credit card authentication form (if you have no landline)

Account Opening Application Form
Copy of Business Registration


3. Wait for DHL Sales to send the contract
Receive contract

Sign and submit contract back to DHL


4. Approval: 3 business days from the day of submission for account to become active
Once the account has been approved you will receive your account number from DHL.
5. Web Login: Link the web login with DHL account number -    https://www.mydhl.dhl.com
Once you have your account number you can login to DHL online using your details: 
DHL Account Number

Email Address

Password
6. Developer Access - To request Password and Site ID

Moving forward, you'll also need developer access from DHL. 
Register on the DHL Express XML Portal: https://xmlportal.dhl.com/login

When registering, please indicate "Easyship" in the field titled, "Describe the application and business process where XML Services will be used."

7. Approval: 2 business days from the day of submission
Receive Password and Site ID
8. Integration (Make sure that the DHL account is set up in same region as your Easyship account)
Account Number

Password

Site ID
Adding your DHL Express Account to Easyship 
It's possible to add your personal Courier Accounts on Easyship. 
To add a courier, go to your Easyship dashboard and the: Couriers section
Once there, click "Add new courier"
You will then see the couriers that are currently available to be added into Easyship. 
Kindly reach out to our customer service team directly if you have any additional questions.
You can reach us on support@easyship.com
2) Once you have selected the courier which you have a personal account with, you will need to provide some account information.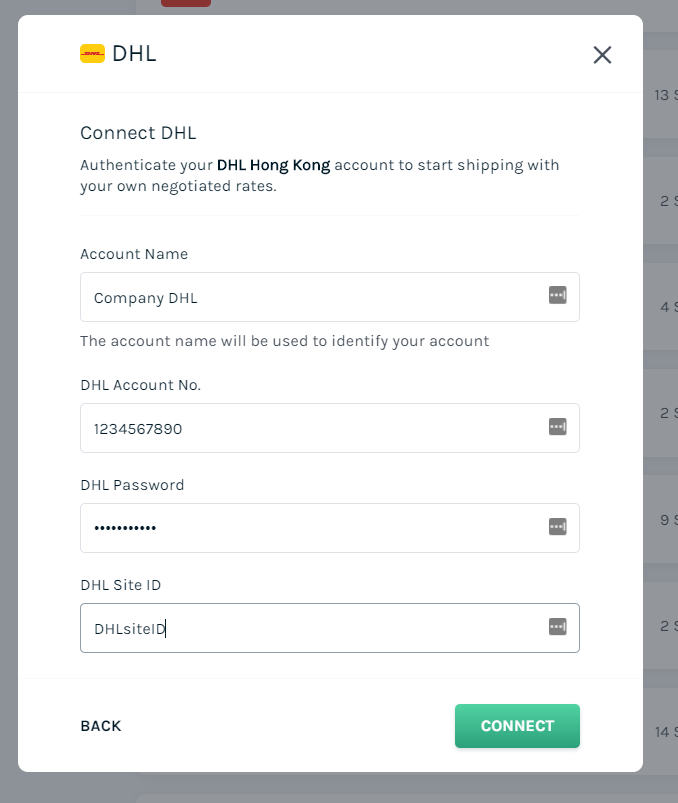 3) Once you've successfully entered all the information, the courier will be added.
Please note that Easyship does not know your contractual situation with the courier, which is why you'll be prompted to enter your Pickup and DDP handling fees. If not provided, we will assume that your pickup fee is $0 and that your DDP fee is HKD$100/US$10/SG$10/AUD$10. 

This fee will automatically be added to your rates and quotations.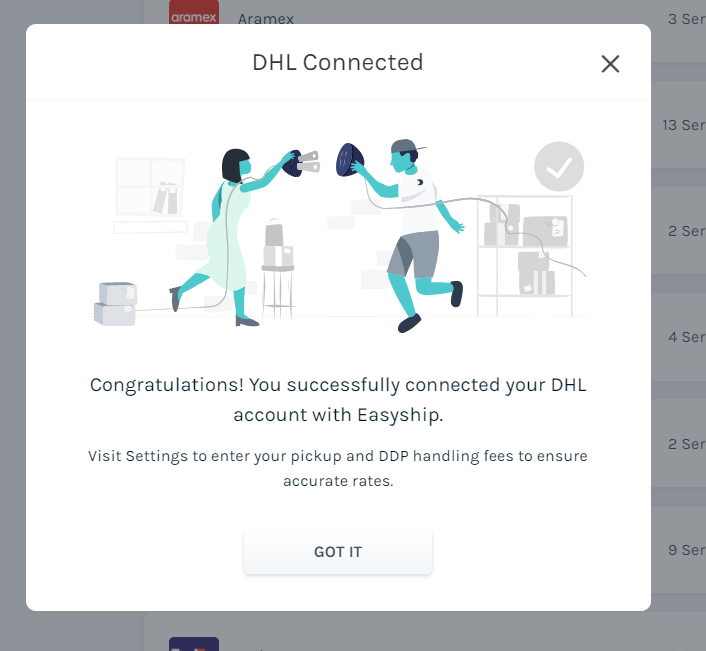 Change your courier settings 
1) To change your courier settings, passwords, or handling fees, click your courier of choice.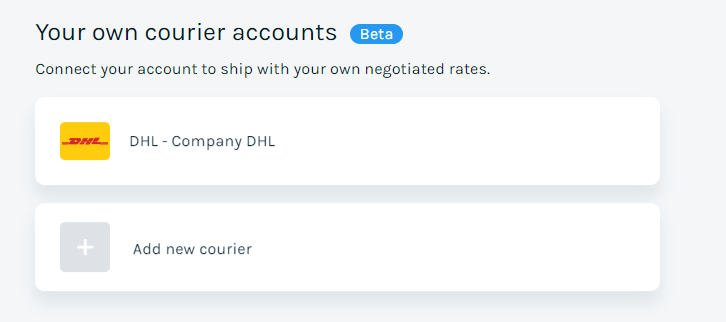 2) Once clicked, you can see the following: 


Account information
The Displayed Account Name
Account Number
Site ID or other required information from the courier. 
Password.
Settings
Pickup fee
DDP Handling fee

Delete account