When you log in to your Easyship account the 'Analytics' section will always be the first thing displayed. Here you can see a quick overview of the shipments created on your account.
Summary
If you have navigated to another section of the Easyship dashboard you can navigate back to this section manually by clicking the 'Analytics' button on the left-hand column of your Easyship dashboard:
From this section, you can filter your analytics by date range and view a summary of the data over a designated period of time by clicking the date range in the top right-hand corner.
Your store totals will be shown on the left-hand column and your designated timeline will be shown in the graph.
The total product value shipped is presented in green
The total cost of shipping is presented in blue
The total amount of shipments is presented in orange
Top Destinations, Solutions and Sales Channels
Here you can information on the top destinations, couriers and sales channels that are used for shipments that are created with your Easyship account. The top 5 will be shown for destinations and solutions, but you can always click the 'View More' button to see the total breakdown.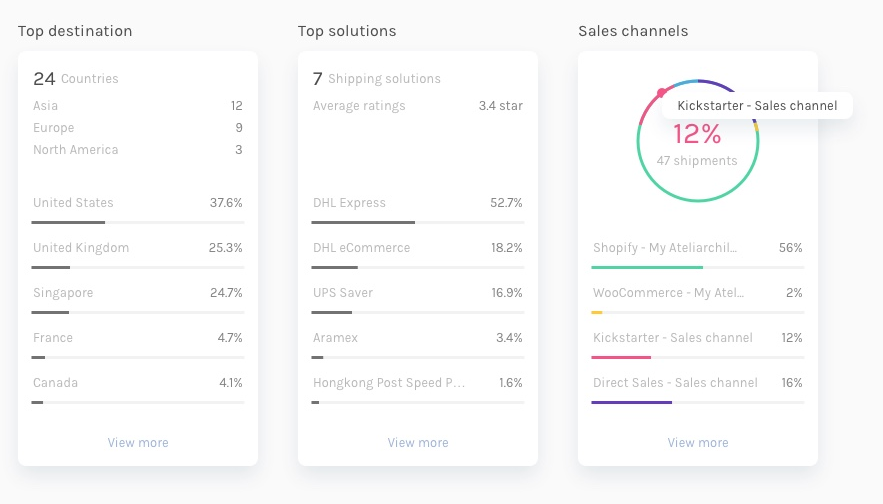 Current Status of Shipments
Here you will see an overview of the statuses of all your shipments that have been shipped within the designated date range that was inputted in the top right-hand corner of the 'Analytics' page.
Now that we've gone over the 3 sections in the analytics page you should be comfortable using this page to get an overview of your shipment data.